Posted By RichC on July 31, 2014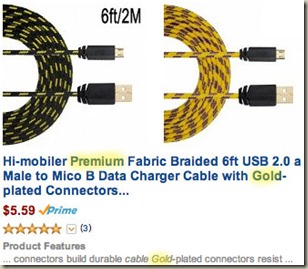 A couple of days ago I whined about my failed or failing charging/sync cables used  on phones, tablets and electronic devices. I then started searching for the replacements but was discouraged with the delayed shipping for non-branded cables from China. Then after reading about the cheap quality, I revisited Amazon decide to find out if there were better cables. Usually I ignore the "words" used in marketing … like "gold plated" and "premium" … but perhaps some "premium" cables are better? Check out the post earlier this year in Lifehacker.
Cables Can Significantly Impact the Charging
Speed of Your USB Device … by Adam Dachis

USB chargers can impact how fast your device's battery gets back to 100%, but they're not the only determining factor. The wrong cable can slow down charging speeds as well. Redditor Esteef explains.